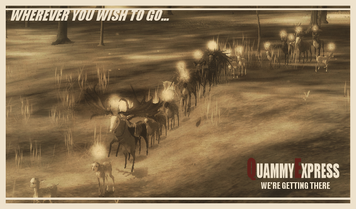 The Quammy Express
Edit
"Wherever you wish to go... We're Getting There"

This latest and greatest form of transportation to ever come to forest will have you surely have you riding in style. Eliminated are the days when you simply had to run to get to your destination. With the Quammy Express, you are guaranteed an excellent experience and unbeatable service. All aboard! (Mudpies sold seperately.)
About Our Conductor
Edit
(....)
Need a lift?
Edit
So you've finally managed to catch up with the high-speed train, huh? But you are confused about boarding? Well, never fear! We at the Quammy Express take pride in making our services easy to understand and enjoy.
Step 1. Find the train
Step 2. Find an open space on the train either in between already boarded passengers...or at the end.
Step 3. Dance!
Step 4. (optional) Make train noises! Choo-choo!